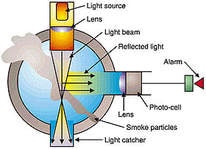 This image shows how a photoelectric smoke alarm works.
Some of you would be aware of the changes in legislation regarding Smoke Alarms for Queensland residents. The question many of us have been asking is "How does it affect me?" Read on to learn what you need to know to comply with these changes…..
​
---
Existing Properties and Properties For Sale or Lease
Existing smoke alarms which were made over 10 years ago must be replaced with photoelectric smoke alarms.
The vast majority of residential fire fatalities are due to smoke inhalation, not from actual flames and almost two thirds of these occur at night while we sleep. Photoelectric smoke alarms detect dense smoke, more so than heat and have proven to be more effective for smoldering fire and dense smoke. They contain no radioactive material and are not prone to randomly activate. A lot of research has been conducted into photoelectric alarms and found them to be more effective across a wider range of residential fire than ionisation alarms.​​
Smoke alarms that do not operate when tested must be replaced immediately.
If you are unsure whether your current smoke alarms are working or would like them tested, please contact us and we'll organise a time to come and test them for you.
QFES (Qld Fire and Emergency Service) recommend that:
​Smoke alarms be hardwired (which will set off all alarms simultaneously); or
are powered by a non-removable 10 year battery
Ionisation smoke alarms be replaced with photoelectric type as soon as possible.
Smoke alarms should be installed on every level of your house
All bedrooms are required to be fitted with a smoke alarm, as are hallways or connecting areas. If you have no bedrooms on a level of residence, then an alarm must be fitted to an area most commonly used as an entry or exit point. All smoke alarms must be connected.
---
New Buildings or Building Extensions/Renovations.
All new or substantially renovated homes are required to install hardwired. photoelectric interconnected smoke alarms.
Alarms must be hardwired to the mains power supply with a secondary power source (non-removable 10 year battery).
Smoke alarms MUST be installed on every storey, bedroom, between bedrooms, or most likely path of travel to exit the building.
This legislation was brought in as of January 2017. If you think your property may not meet the legislation requirements, you could be jeopardising your insurance policy should you need to claim in the unfortunate case of fire.
Smoke alarms must comply with the standard AS3786-2014 and should have the following labels :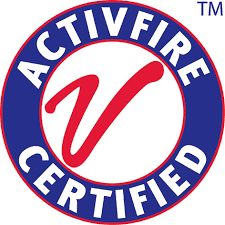 ---
Where to Place Smoke Alarms.
There are special requirements for the placement of smoke alarms. A qualified electrician should know these requirements and can assist you with decisions on where to install smoke alarms in your home. If you would like further information on anything you have read here, please comment below or contact us by phone or email.
If you would like to view the legislation in full, visit the smoke alarms website at www.qfes.qld.gov.au